5th National Nursing Ethics Conference
* * *
Reimagining Nursing from the Inside Out
* * *
March 7 – 9, 2018
* * *
Speaker Spotlight
Over the next few months, we will be interviewing a few of our key speakers for NNEC 2018 so that you can hear about their work, what they are thinking about ethics, and the importance of resiliency.  Watch for upcoming Speaker Spotlights.

Our third interview was with Carol Taylor, RN, PhD.  Carol is a senior clinical scholar in the Kennedy Institute of Ethics and a professor of medicine and nursing. Receiving her PhD at Georgetown University, she chose philosophy with a concentration in bioethics because of a passion to "make health care work" for those who need it.  She teaches in the undergraduate nursing curriculum, directs a practicum in clinical ethics for graduate students in the philosophy program, serves on the ethics committee, conducts ethics rounds and develops professional seminars in clinical ethics. Her research interests include clinical and professional ethics, and organizational integrity.  (Interviewed January 12th by Angie Knackstedt, BSN, RN-BC)
Come join us for Carol's keynote, "Transforming Moral Outrage and Moral Resignation into Moral Action."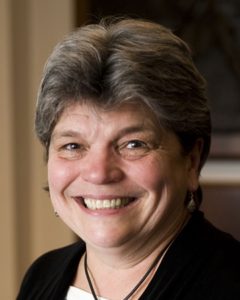 Why such a long-standing commitment to the Ethics of Caring and NNEC?
So many needs, so little time, so many barriers to compassionate, excellent care — a myriad of ethical challenges confronts each of us.  This conference is a graced opportunity to step out of the everydayness of our practice and engage with nurses like us who are finding ways to make health care "work" for those who need it.  I love and deeply respect the vision, energy, experience, and work ethic of the planners and each year am newly moved by the experience that is created for bedside/frontline nurses.  This conference provides an experience beyond seeking knowledge; it motivates us to lead and creates a desire to advocate our practice.  If you have not experienced this conference yet, treat yourself this year!
What does reimagining nursing mean to you?
I've heard too many nurses complain that our workplaces have gotten so demanding that the best they can do is "show up and give an honest day's labor for a day's pay."  This scares me and should scare all of us!  I want to work with nurses on the front lines of care to reflect deeply and dialogue about what is absolutely essential to excellent nursing, things like competence, trustworthiness, respect and compassion, accountability.  Then we will figure out how to achieve this day in and day – advocating for dedicated time and space to make it happen.
How has your engagement with ethical issues in healthcare evolved?
Over the years, I have come to value organizational integrity and the importance of our work cultures supporting ethical practice.  I love it all, working with frontline caregivers to advocate effectively for patients and families, challenging senior leadership to support ethical practice, and supporting new or revised needed health policies.
What keeps you resilient?
The fifth provision of our Code of Ethics reminds nurses that we have a duty of self-care.  I have always believed that we cannot give what we don't have and I take this duty seriously.  My own ability and motivation to serve is renewed daily by the example of so many nurse colleagues who go the extra mile to meet the needs of patients, families, and their teams.  We must remember that we need not do this alone; we can support each in self-care and being resilient!
Consider Becoming a Sponsor
Please consider becoming a Sponsor for the 2018 National Nursing Ethics Conference.  Sponsoring institutions receive significantly reduced registration, consider asking your institution to sponsor! 
Contact Katherine Brown-Saltzman
 (brownsaltzman@mednet.ucla.edu or 310-794-6219)
AACN Scholarships
A shout out to AACN for its support and recognition of professional development – we are grateful!
American Association of Critical-Care Nurses (AACN) is offering full scholarship to its members to attend NNEC!
Visit the AACN Continuing Professional Development Scholarships page to learn more and apply.  Deadline for applications

January 8, 2018

,
but the sooner you submit your application, the sooner you will be informed if you will receive the scholarship.
HPNF Scholarship
The Hospice and Palliative Nurses Foundation (HPNF) is offering a full scholarship to attend the NNEC for a Hospice and Palliative Nurses Association member. Please visit the HPNF web site at http://hpnf.advancingexpertcare.org, look under the Education Tab and click on Conference scholarships from the drop down menu, or use this application to apply and email to info@hpnf.org.  The deadline for applications is

February 5, 2018
NNEC
The NNEC aims to empower nurses to engage in complex, ethical challenges of care to effect needed change and to affirm the mutually enriching qualities of patient-family-caregiver encounters.